Article Input: November 10, 2022 15:36 Last Modified: November 10, 2022 15:36
[Samcheok = Newspeak] Reporter Lee Hyung-seop = Samcheok-si, Gangwon-do, will focus its administrative power on fostering the hydrogen industry and attracting businesses to cope with the disappearance of provinces due to population decline.
According to the city, Jungwoo E&E, located in Busan, toured its plant and signed a business agreement to attract companies on the 10th to foster the hydrogen industry and attract companies.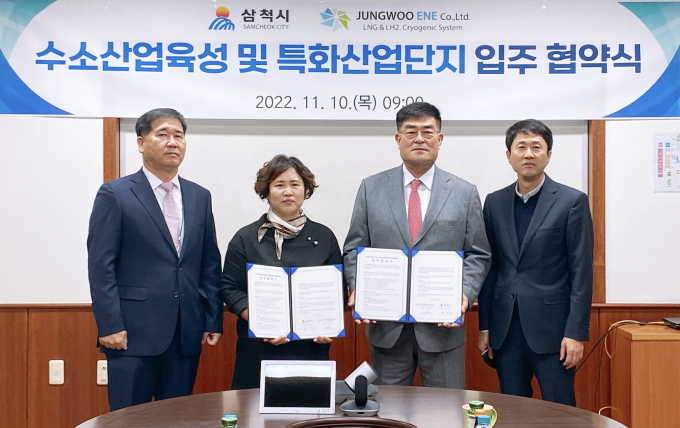 Samcheok City signed a business agreement with Jungwoo E&E Co., Ltd. on the 10th to foster the hydrogen industry.[Picture = Samcheok City Hall] November 10, 2022 onemoregive@newspim.com Jungwoo E&E is a leading domestic company in producing liquefied hydrogen-related products and will move in when the Samcheok hydrogen specialized complex is established, and has already submitted a letter of intent to move in to Samcheok.
The city then visited the Hyundai Rotem Changwon plant, which signed an investment agreement to build a hydrogen-related Samcheok plant in September, and also visited the Chungju Green Bio charging station.
Samcheok City plans to actively push for a facility construction project to produce biohydrogen using food waste and sludge from sewage treatment plants through a tour of these factories.
He also toured the LNG ultra-low temperature system in the Gimhae Institute of Machinery and Technology operated by Korea Shipbuilding & Marine Engineering.
Samcheok Mayor Park Sang-soo said, "We need to attract companies to revitalize the hydrogen industry and create jobs, a key pledge project for the 8th popular election," adding, "We will do our best to establish an industry-academic cluster project that companies are focusing on to cope with local extinction."
onemoregive@newspim.com