Input 2022.08.17
Jungwoo E&E Co., Ltd. (CEO Lee Sun-hae) announced that it will participate in the H2 MEET 2022 held at KINTEX in Goyang for four days from August 31st (Wed) to September 3rd (Sat).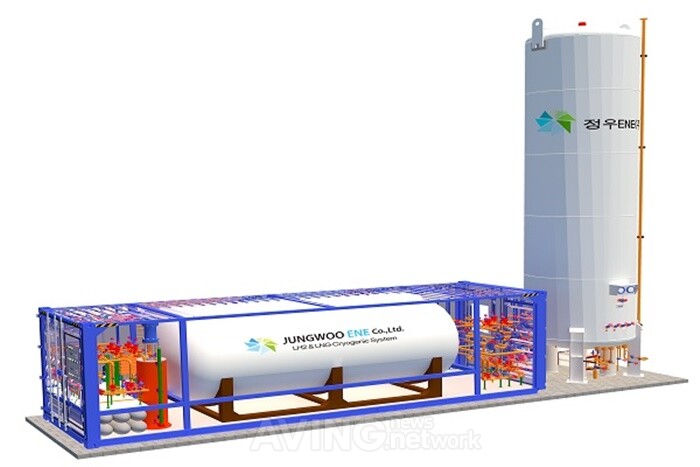 H2tainer │Photo courtesy of Jungwoo E&N
Founded in 2010, Jungwoo E&E is a company specialized in the cryogenic field and produces and supplies equipment necessary for storing and transporting cryogenic fluids such as vacuum pipes, double pipes, vacuum jacket valves, cryogenic pumps, and cryogenic fluid storage tanks. Systems such as liquefied hydrogen charging stations and liquefied hydrogen fuel supplies were also successfully designed and engineered. In addition, in 2019, it was recognized for its excellent technology in the cryogenic field by developing its own storage tank that can store liquefied hydrogen and proving its performance.

The liquefied hydrogen charging station, which will be introduced at the exhibition, is designed to reduce costs such as logistics, storage, and labor costs by using liquefied hydrogen, which is more economical for transportation and storage than gaseous hydrogen charging stations. In addition, based on the know-how accumulated in the existing land, shipbuilding, and marine fields, zero-mission is realized in plant and shipbuilding projects with high carbon emissions through liquefied hydrogen fuel supplies.

It will also introduce a liquefied hydrogen transport pump, valve, and loading arm. Officials explain that pumps, valves, and loading arms developed by Jungwoo E&E are designed to safely transport cryogenic fluids at -253℃ with our excellent vacuum insulation technology.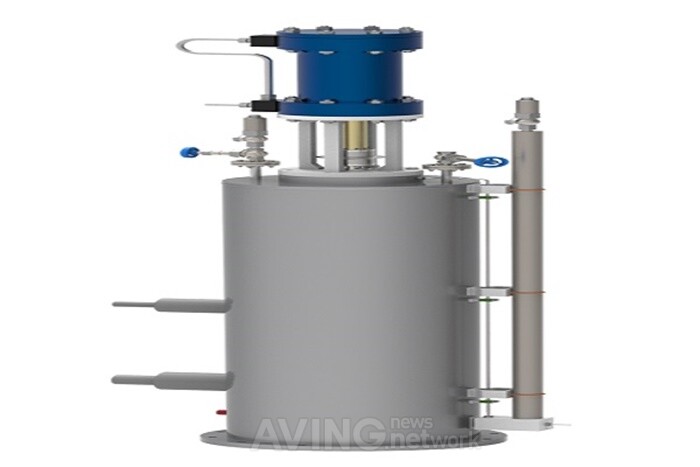 Pump │ Photo courtesy of Jungwoo E&N
"As the energy paradigm shifts to the eco-friendly energy industry by applying carbon regulations around the world, we have developed liquefied hydrogen storage and transportation-related products that do not have related laws yet to realize carbon neutrality," said a Jungwoo E&E official.
"The D project currently in progress with German shipowners is signed with our liquefied hydrogen fuel supply system LOI (Purchase Intention Letter), and will be designed, engineered, manufactured, delivered, installed, and commissioned with our own technology as a turn-key-based project." In Korea, there is a record of supplying vacuum heat pipes applied to liquefied hydrogen tube trailers, and we have a lot of results in the gas industry that applies cryogenic fluids such as liquefied helium chambers and natural gas fuel supplies, he said. "We are developing a re-liquefaction system for liquefied hydrogen evaporation gas as a new product."
Meanwhile, H2 MEET (Mobility+Energy+Environment+Technology) is the largest hydrogen industry exhibition in Korea, which marks its third anniversary this year, and has been renamed from the existing hydrogen mobility+ show. It is hosted by the H2 MEET Organizing Committee (Korea Industrial Union Forum, Korea Automobile Industry Association, Hydrogen Convergence Alliance, Hydrogen Energy Network, Korea Hydrogen Industry Association), organized by the KOTRA, KINTEX, and H2 MEET Organizing Committee, and sponsored by the Ministry of Trade, Industry, Environment, and the Ministry of Land, Infrastructure and Transport. The items on display are as follows. △ Hydrogen production-water electrolysis, carbon capture, renewable energy (wind power, nuclear power) △ Hydrogen storage/transport-hydrogen charging station, hydrogen tank, liquefaction/gas, pipeline, transportation (sea, land), safety, etc. △ Hydrogen utilization-mobility, fuel cell, steel, chemical, etc
→ H2 MEET 2022 News Special Page Shortcut
H2 MEET 2022 LIVE │Filming and editing – Aving News
H2 MEET 2022 On-site sketch │Filming and editing – Aving News