Supply contract with CSIC Group on 28th
LNG Fuel Supply System for Vessels
Reporter Name: Park Gwi-chul, 2017.07.05 23:22:59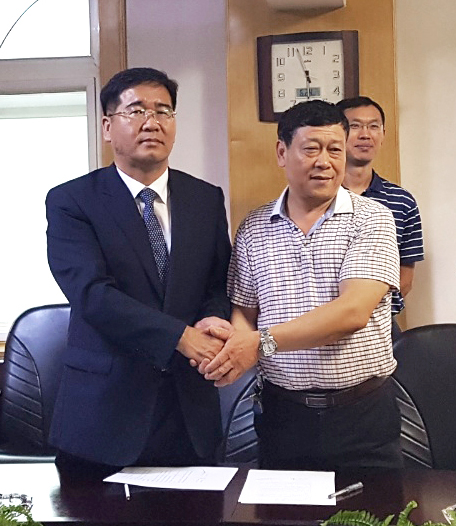 ▲ Park Joon-hyung, president of Jungwoo E&E (left), and Lee Ji, vice president of CSIC Group, shake hands after signing the agreement.
[Gas Newspaper = Reporter Park Gwi-chul] Jungwoo E&E Co., Ltd. (CEO Lee Sun-hae), a LNG-related company, signed a contract with CSIC Group, China's largest shipbuilding group, to supply LNG tank manufacturing technology and LNG fuel supply systems, the next generation fuel for general ships.
CSIC Group, which Jungwoo E&E signed the contract, is a shipbuilding group located at the northern end of Shanghai, and plans to build LNG ships and repair and build LNG ships in earnest in the future.
Jungwoo E&E controls more than 70% of the global market for some products related to LNG.
"We are continuously developing new products to meet rapid market changes and the needs of related industries," said Park Joon-hyung, president of the company. "We will continue to make efforts to promote the excellence of Korea's LNG technology in the global LNG market."
Meanwhile, Jungwoo E&E produced an LNG storage tank using high manganese steel in April this year and delivered it to the Pohang Institute of Industrial Science, a POSCO research institute. In addition, the company develops and produces a variety of products, including heat exchangers, ultra-low temperature pumps, ultra-low temperature vacuum heat pipes, gas valve units individual products and ship fuel supply systems, and LNG bunkering-related units.
Reporter Park Gwicheol: park@gasnews.com MORE