Reporter Name: Park Gwi-chul, 2017.04.06 23:10:00
"Provides a total solution from design to commissioning"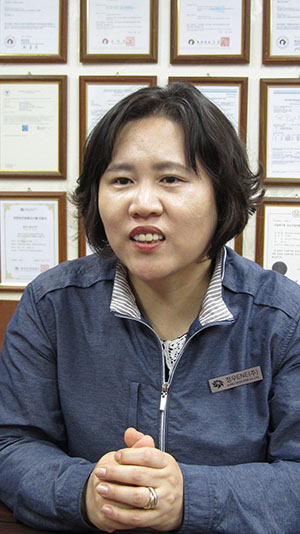 The vacuum insulation piping performance is recognized and rewarding
Strengthening marketing of production products
[Gas Newspaper = Reporter Park Gwi-chul] "The ultra-low temperature vacuum insulation pipe was developed for three years with an investment of about 600 million won and registered three patents from the Korean Intellectual Property Office. We are supplying it to related companies and school research institutes, and as a state institution, we recently delivered it to the National Institute of Nuclear Convergence, which is rewarding because it has been recognized for its higher performance than imports."
Lee Sun-hae, CEO of Jungwoo E&E Co., Ltd., said, "We will expand the supply of ultra-low temperature storage tanks (LNG), heat exchangers and ultra-low valves, ultra-low temperature pumps, ultra-low vacuum heat pipes, individual products of GVU, and fuel supply system for ships."
CEO Lee Sun-hae said, "Jungwoo E&E's competitiveness is to provide total solutions from design to production, engineering, and commissioning."
"Major companies around the world are aligning their design and engineering companies with megatrands that want to deliver all their services in batches through M&A. We are also emphasizing the provision of total solutions as much as possible to ensure global competitiveness."
With the establishment of such a total solution, CEO Lee Sun-hae said that the vacuum heat pipe that supplies LNG to the ship's LNG fuel tank is also being manufactured by CSSC Group, the world's first state-run shipyard. In addition, Hyundai Heavy Industries and Hyundai Mipo Dockyard have won orders in Korea and are currently producing them.
"Our products are now used by large domestic and international companies, and most shipyards in the world, including Japan and China, are registered as suppliers of related products, so we plan to strengthen our marketing to various markets at home and abroad this year."
CEO Lee Sun-hae, who founded Jungwoo E&E in February 2010, has invested about 8 billion won in development and registered about 20 related patents so far. In order to produce these products, the company has acquired a specific facility manufacturing industry and is planning to register a gas facility construction industry (Type 1) at the end of this month to provide gas-related total services from design, engineering and production to construction.
"We have a track record of supplying TOTE, the world's first ship to use as fuel for ships not only on land but also on sea, and we supply about 80 percent of the world's gas fuel ships."
CEO Lee Sun-hae, who is the best quality and good price to be selected by customers, stressed that it is important to do our best to gain an upper hand in competition with companies around the world with domestic water as it competes with Jungwoo E&E's accumulated technology.
CEO Lee Sun-hae, who set up his own plant in the Busan Noksan Industrial Complex at the end of last year, said, "We have five major shipbuilding certificates: Korea Shipbuilding (KR), ABS, and DNV-GL."